Start your next hiring intake with the right name badges
For many workplaces, whether it is in hospitality, medical or corporate, their brand identity is important for you. When new staff is hired, a key point for brand identity is making sure your team looks professional, as this reflects on your business. So how can you achieve that refined look you are after? The answer is by having proficient looking, high quality uniform name badges.
The look of the name badge that you choose speaks volumes about you and who you are. It can reflect the quality of what you provide for your potential clients or customers. This is where we can help you! With 75 years of experience and a highly skilled team, we are prepared to help you achieve the look you want.
How do you achieve a professional look?
When creating and designing your uniform name badge, there are things to keep in mind.
Readability
Name badge Readability is very important when connecting with people and making sure a memorable first impression is made. The easier it is for people to read your name and title, the more efficient the name badge will be. If it is too hard to read any text on the badge then it won't be easy for people to connect with staff. It's crucial that the font and font size is one that can be read without any difficulty.
Useful Information
The information that is displayed on a name badge is also important. Making the name badge too crowded with text and overloading the given space with information can also make it difficult to read the badge. It can also prevent people from remembering the important information that you want them to remember. To avoid this from happening, it is important to ask yourself whether it is valuable information and whether it is actually required. Displaying your name, job title and company logo or company details may be all you need. Sometimes you may only require a name and a logo or a job title and a logo, all depending on where you work. Don't overcrowd, less is best.
The key to a successful uniform name badge is having the right balance of information.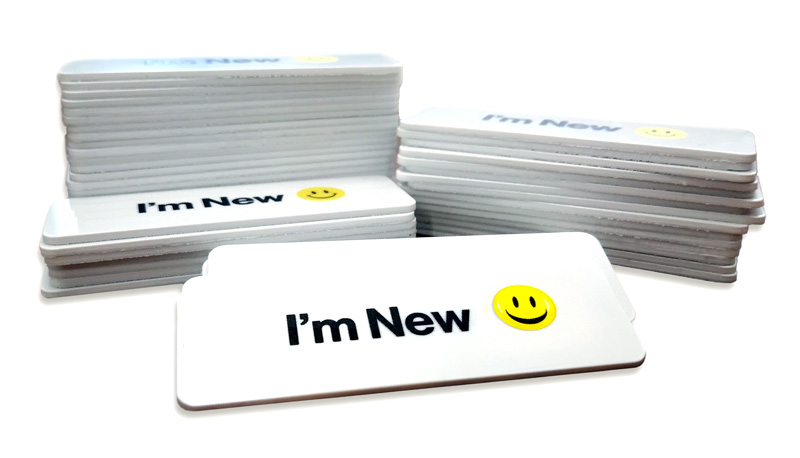 Colour and branding
If getting your brand noticed and leaving a lasting impression on people is important then it's crucial to get the branding aspect of your badge design right. Having too much colour can make it confusing for people to focus on important information. Having no colour will make it hard for people to associate the badge with a company and your brand. It's helpful to have a badge with style that will encourage conversations that will then lead to discussions about your company and what you do. At the same time a badge with a name and title and a logo can also be enough to spark up conversations with customers and leave a good first impression. The right balance of colour among text will leave people want to know more about you.
Selecting the Base Material
With our range of foil materials available, you can now create a sophisticated look to your name badges by simply swapping the standard white plate for a foil substrate. This will add shine to the overall look, adding depth to your artwork, making it more eye catching in the light.
The foil materials available
Polished Gold
Matte Gold
Sparkle Gold
Brushed Gold
Polished Silver
Matte Silver
Sparkle Silver
Brushed Silver
Choosing the right size and shape
With our range of shapes and sizes, you can make your uniform name badges stand out. The different shapes and sizes can be used to differentiate the different roles between staff.
You can choose from the following shapes:
Oval 75x45mm
Circle 50mm
Rectangle 50×20, 60×20, 65×25, 70×23, 73×27, 85×25, 90×40
Custom size
Choosing the right fixing
It's important to have the right fixing for your badges. We have different fixings that can be used to complete your professional look.
Bar pins – Ideal for very active people who need to make sure the name badge won't come off if it gets bumped.
Magnet – Ideal for those that need something quick and secure and don't wish to damage their clothes.
Clip and Pin – For people who wish to clip their badge to their pocket.
Swivel Clip – Suitable for people who wish to attach their badge on to their tie or lanyards or pockets, as this type of clip can rotate.
Let your next uniform name badge display a higher level of prestige and class to make you stand out. We understand the significance of making sure that all staff maintains a respectable appearance as it's your business and it's important to you, your brand and your reputation. Your customers and clients will be able to personalise their thanks for the helpful staff, professional and friendly service offered to them.
So send us an email with any questions and information you may need to help you make the overall process a well informed one for you!
With Australian Name Badge you get more than a product, you get a solution.
From concept to manufacture, Australian Name Badge has the solution.
Australian Name Badge is the right solution!